Attic Insulation
Many homes have inadequate attic insulation or even worse, none at all. Or, your home may be insulated with fiberglass insulation that is doing a poor job.
Capping fiberglass insulation with cellulose insulation adds R-value and restores the effective R-value that fiberglass loses during cold weather.
Superior Attic Insulation for Your Home

Cellulose insulation forms a seamless blanket of natural fibers that provide outstanding protection from the elements. Best of all, on the hottest and coldest days, (when you need it most), cellulose insulation won't lose R-value like fiberglass.
Cellulose insulation has an R-value of 3.8 per inch (nearly twice as much as typical blown fiberglass).
Chances are good that your home could benefit from adding cellulose attic insulation.
The Benefits of Cellulose Insulation for Existing Homes
Researchers at Oak Ridge found that capping fiberglass with cellulose not only adds R-value, it actually restores the effective R-value that fiberglass loses during cold weather. The researchers also learned that capping fiberglass with more fiberglass "fails to restore the R-value".

Older homes are frequently insulated with loose fill fiberglass. Adding a layer of cellulose insulation helps control convection and boosts the R-value.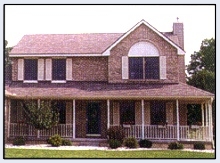 New homes are sometimes insulated with fiberglass batts. A layer of cellulose insulation fills in around the gaps and seams and helps restore lost R-value.
Attic Bypasses
Since the energy crisis first hit more than 20 years ago, millions of people have added insulation to their attics. Many were disappointed when their fuel bills didn't go down as much as expected-if they went down at all. Of course, some of the reasons for this is that energy prices kept going up.

But there is another B I G reason:
attic bypasses.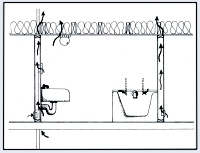 Figure 1 ~ Bathroom Bypasses

Attic bypasses are hidden air passageways that lead from the heated space into the attic. Because warm air rises, it is continuously moving up these passageways and escaping into the attic during cold weather. So even though the attic should be cold, attic bypasses make it a semi-heated space, which is a waste of energy. (Figure 1 See Right)


These bypass leaks can cut the effectiveness of attic insulation by 30 to 70 percent. If you're expecting to save $300 a year from attic insulation, you could be saving only $90. The other $210 is lost because of these air leaks into the attic.

If you have any of these air leaks into your attic, adding insulation alone without sealing air leaks is not going to help much. Also, water vapor carried with the escaping warm air may condense, freeze and build up in the insulation. And when this water builds up, it can soak the insulation (wet insulation has almost no insulating value), cause plaster and paint to crack and peel and lead to rot and other structural damage. When moisture problems appear in the attic after it has been insulated, attic bypasses are often the cause.



Figure 2 ~ Ice Dams


Ice build-up on the roof is another problem caused by attic bypasses. This build-up, called ice damming, happens when heat gets into the attic and melts the underside of the snow on the roof. The melted snow then floats down the roof, underneath the top layers of snow, until it reaches a cold spot such as the eaves, where it freezes, forming a dam, behind which more snowmelt and ice build up. The ice build-up can back up under the shingles damaging them, and allowing water to leak down to the ceilings and walls below. (Figure 2 See Above)

To avoid these types of water problems and to receive full benefit from your insulation, you need to plug up your attic bypasses. But before sealing them you have to find them.

Looking for bypasses



Signs to look for are wet insulation, dirty insulation, dust build-up underneath the insulation, water staining under the insulation, frost build-up on roofing nails, water staining on roof boards, and places below where you have had ice dam and moisture condensation problems. Another thing to look for on cold days is patches of frost on top of the insulation. Finding any of these signs doesn't necessarily mean there is a bypass below, but they are good indicators.

Some common bypass areas to watch for:




Chimney chaseway
Tops of interior walls
Dropped ceilings
Ceiling light fixtures
Plumbing and electrical penetrations
Houle Insulation Inc.
Our Specialty is Your Existing Home!®